BACKUP SERVICES
MITIGATE RISK AND
OPERATE WITH PEACE OF MIND
Remote Offsite Backup
Helping to ensure business continuity and prevent costly data loss.
Backups are insurance on your information and technology.  They are a critical part of any business that maintains data that if lost would cause stress and loss of productivity. Typically businesses use tape backup, removable storage or newer technology like thumb drives or memory sticks. As all of these are viable options but there are potential areas of problems like damage from dropping, loss, water, heat, cold, or even physical damage from stepping on it.
Remote offsite backups are not subject to these kinds of problems. Offsite backups utilize disk storage via secure transmission of your data to our servers. Once that backup is complete, an email will be sent to you or a designated person to inform you of the success and status of your account.
The benefits of offsite backup are as follows:
No single person is responsible for changing tapes or taking a media off-site to protect against fire, flood or other disaster.
No need to periodically replace tape or disk media, they have a limited life span of usability, typically 1 year.
No need to purchase or maintain software or hardware to stay up to date with patches, fixes or failures.  Our remote backup servers will automatically update
the software as needed.
More consistent daily backups to alleviate that forgotten backup.
Faster restore times as you can go directly to a file for restoration rather than a sequential reading of the tape to find the file.
Faster backup times since only new data is in the daily backup since the last backup.
Reduced risk of data loss for that day since the remote backup has completed as quickly as possible and reduces the chance of the tape sitting in the drive overnight or over the weekend if something were to happen during that period of time.
Also, the rise in ransomware creates an even greater threat and need to have reliable backups in an effort to protect your company from becoming its next victim. A restore to your system from your backups will enable your business to keep doing business. In our experiences, with clients who had backups versus those that did not, do not risk not having a backup of your data.
We know and understand how important your data is to your business success. We take backups seriously because we understand the need to keep your data safe and to always have a means to restore it, if needed. That is why we provide you with encrypted cloud backups in a secure environment with customized retention periods (our default is 14 days). Support is also included with your backup agreement with us. All backup jobs can be scheduled to run anytime or on a recurring basis. We can backup data from your PC/Mac, servers, databases and virtual machines.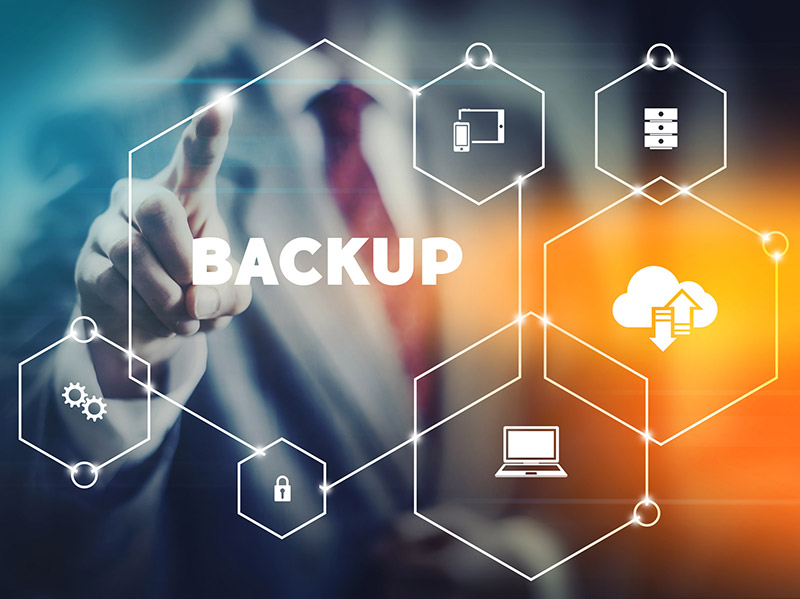 What can we backup?
Our remote backup servers can backup Microsoft Exchange Server, Microsoft SQL Servers, MySQL servers, Word, Excel, Outlook, Peachtree, QuickBooks or any other data that you would need backed up.
Some special considerations:
A backup of your data is only one piece of the puzzle to protecting your business. You must consider the worst case scenario of a complete loss of building or server(s). You must develop a plan on how to continue business after the disaster occurs. Please visit our Disaster Planning information below for further information.
Disaster Planning
A Technology Disaster can be caused by any number of reasons, but they all result in the same final place. "How do I recover?"
Your Disaster Plan needs to be developed and tested carefully before the disaster happens to insure you can recover to a point you are comfortable with. A plan can be very complex or very simple and begins with determining your needs, tolerance for downtime, costs of lost time and productivity.
Please visit the Ready Business Initiative, a robust online resource designed to help owners and managers of small and medium-sized businesses prepare for emergencies and lead disaster planning efforts.
Questions that will come up and need to be addressed:
How do I get my financial and operational information back?
How do I get new hardware or can it be repaired?
How do I navigate to a recovery?
How long will it take?
Who will help me accomplish this recovery?
What is my maximum downtime I can have before it becomes a problem?
How do I get my employees back to work?
Do I have the information and legal documentation to re-open my business?
These are all valid questions as well as there will be more for your particular business. What we can do for you is help to bring this all together to develop and implement a plan of recovery.
Since every Disaster Plan is business specific, the cost and time to develop a plan will vary with the business needs and scope. We will be glad to sit down with you at no cost to discuss putting a plan together. Contact us before a disaster occurs to be ready.
Call for a no cost evaluation 804-358-7889.
Disaster Recovery
Disaster Recovery depends on your business being prepared for the unexpected.
Critical considerations for Disaster Recovery:
Planning for physical needs to continue business (building, equipment, water, mechanical)
Planning for personnel needs, will any employees be able to come to work, will they be able to work from their home or will a different location be necessary to continue work
Planning for information, will your computers work, where is the data about finance, billing, inventory, clients, vendors – plan to be able to retrieve this information
Successful Disaster Recovery includes:
Knowing what to do, having a plan, knowing who to call for help.
Having your essential information to keep your business up and running.
Understanding how to operate offsite, make contacts with vendors, clients, insurance providers.
Being as prepared as you can for the unexpected, so your business can continue to operate.